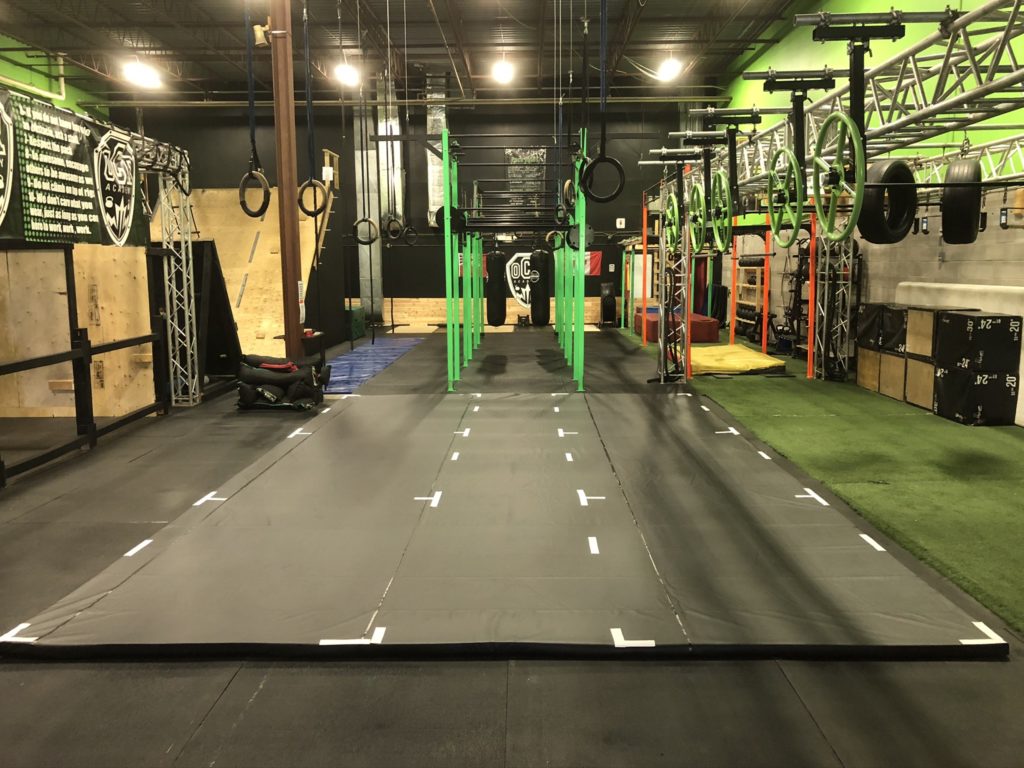 OCRA Condensed Camp
This new, shorter version of our day camp programs will begin on July 6 and will be offered for 8 weeks, with additional programs being added through the summer depending on local public health regulations and government limitations. At this time, half-day camp programs (3 hours) will be offered to children who are between ages 7-11 yrs old. Campers who were already registered in camp can take advantage of a 48-hour priority registration period for the week that they were registered for.
How will it work?
Rather than offering full-day care, OCRA 3hr camp will offer kids a half-day program where they can play on our in door obstacle course in a safe and cared for facility, with an emphasis on fun, creativity, activity, and socialization. We will be following all necessary local and provincial guidelines for Day Camps, including groups of no more than 12. Each group will include two staff and no more than 10 children and each "bubble" of 10 will not cross paths with any other group.
__________________________________________________
All programs run Monday – Friday and start at $185/week
Programs will continue to be added and adjusted depending on provincial and local health regulations. Additional half-day, and/or full-day camps will be added in August pending government approval. All additional programs will follow the maximum group size of 10 and a 1:5 staff ratio.
Important program info
Drop off and Pick up locations:
Drop off/pick up, parents and children are to wait in their cars until a staff member directs them into the gym, where they will be screened with 4 questions:
-Have you or anyone in your household had the following symptoms over the last 24 hrs? Y / N
-Fever over 100.4 Y / N
-Shortness of breathY / N
-Coughing Y / N
-Have you or anyone in your family worked in close proximity with or on someone with confirmed Covid-19 in the last 14 days?-Y / N
Managers will be present to supervise drop off and pick up and to help direct parents and campers
Everyone will enter the same door and exit the other
Parents will not be permitted to enter the facility and will be signing their child in at the door directly to their Group Leader.
Health & Safety:
Campers and staff will be screened prior to arriving on site.
Those who have indicated that they or a member of the same household has travelled outside the country in the past 14 days will not be permitted into the program.
Campers or staff who are exhibiting symptoms of illness may not be permitted into the facility. Those who exhibit signs or symptoms of illness during the program will be isolated from the group and sent home immediately. Others in the group will be notified immediately.
All participants must meet the minimum age requirement of 7 years. At this time, there are no camps offered for younger children but this may be offered in the later months.
Children will only be permitted to register for one session each week. If a child registers for a morning program and then an afternoon program during the same week, the second registration will be cancelled by OCR Academy and that spot released to a child on the waitlist.
Children will be asked to not register with any other organization within 14 days of their participation at OCR Academy. For the safety of the entire community, it will be important that a child does not attend the evening session at OCR Academy, after spending the day in another program or summer camp.
Program Details:
Morning Breakfast Camps will run from 8:30-11:30am. After-Lunch Camps will run from 12:30-3:30pm.
Items from home will be limited to:

1 water bottle, filled to the top at the time of drop off

1 healthy snack in an easy-open container

Sun hat, and one bottle of sunscreen that the child is comfortable applying themselves. Leaders will assist using verbal cues only.
All items must be labelled with the child's full name. NO other items will be permitted in the group's activity space, unless deemed appropriate and/or necessary by Management.

Each group will have one designated Group Leader and one designated Activity Leader. Each team of 2 will work together to ensure a safe, high-quality program for each child.
Each 2.5-hour camp will include indoor activities, such as traditional fun games like "Floor is lave", but with an OCR twist, outdoor activities, and free time where each group can play on a section of the course for X amount of time and they switch. (pending City's approval and following specific disinfecting guidelines between groups).
Registration Details:
Those with priority registration who were already registered for summer camp with OCR Academy will have 48 hours advanced access prior to registration being open to the broader public. Those who have signed up for this priority registration will receive notice by email.
Before registration, please note:
Registration will be available online only. Please ensure you have a complete and accurate family account. To register please fill out a waiver filled out on our website https://www.ocracademy.ca/waiveronce that is completed please email us with the title "Camp Registration for Morning camp or Afternoon Camp"
For this unusual and limited camp program, we are temporarily suspending all of our regular discounts such as Military Families, neighbours, sponsors, and staff and volunteers. Discount opportunities may resume when the building is open again with a staffed Customer Service desk.
All campers must meet the minimum age requirement of 7 years old. There are no exceptions. Without physical touch, we don't feel well equipped to properly care for the emotional and social well-being of children und the age of 7 .
Children will only be permitted to register for one session each week. If a child registers for a morning program and then an afternoon program during the same week, the second registration will be cancelled by OCR Academy and that spot released to a child on the waitlist. There will be no exceptions.
Children will be asked to not register with any other organization within 14 days of their OCR Academy Day Camp. For the safety of the entire community it will be important that a child does not attend the evening session at OCR Academy, after spending the day in another program or summer camp.
Registration dates
| | | |
| --- | --- | --- |
| Camp Dates | AM # of participant's | PM # of participant's |
| July 6-10th | 10 | 10 |
| July 13-17 | 10 | 10 |
| July 20-24 | 10 | 10 |
| July 27-31 | 10 | 10 |
| August 3rd-7th | 10 | 10 |
| August 10-14th | 10 | 10 |
| August 17-21st | 10 | 10 |
| August 24-28th | 10 | 10 |
| August 31-Sept 4th | 10 | 10 |
__________________________________________________
Questions & Answers
1. Can I register for a morning program and an afternoon program?
No. To minimize risk of exposure and ensure proper management should a case be suspected, the ministry of health has strongly urged organizations to keep groups inside of one "bubble". For this reason, we are following the recommendation to keep each group limited to only those 12 people for the required minimum 5 days. For the safety of each child, we are strongly recommending that each participant does not enroll in any other programs during that week. Should there be a possible or confirmed case of COVID by someone in your child's group, this will drastically limit the potential for contact and spread in the community.

2. My child is 6.5, why can't I register him/her?
Given the new world that children are facing and learning to cope in, we feel that children who have completed grade 2, or 7 yrs old are far more capable of managing independently and socially than children who had just begun grade 1. Without touch, we do not feel properly equipped to help children manage on their own, especially with things like accidents, self-care, and applying sunscreen. For programs for 4-6yr olds we highly recommend that parents look to other experts on how to care for our youngest, and most vulnerable campers like ECEs, and licensed child care centers.
3. Will masks or other protective equipment be required?
We will be following the provincial and local health recommendations and updating PPE policies as things progress. At this time, masks will be optional for participants and staff. We recommend that children who are comfortable wearing them to bring their own, but wearing masks will not be enforced by staff, nor will staff be assisting children with their masks. The Ministry of Health has recommended that any staff or participant wear a mask if or when they need to go outside of their "bubble". While we value the recommendation that wearing a mask is always better than not, we also recognize a significant value in children being able to see their leader's facial expressions. Those who have met some of our camp leaders know how quickly a big smile from them transfers directly to the heart of the child.

4. What happens if someone in my child's group exhibits symptoms of COVID?
Children exhibiting symptoms will be removed from the group and will wait with a leader to be picked up by a parent. Parents of the other children in the group will be phoned immediately and the situation will be assessed from there with the assistance of Public Health Authorities. Should there be immediate cause for concern, the program may be cancelled for the duration of that week, and participants asked to self-isolate according to OPH recommendations.

5. Why are you not offering full-day programs for workers who need child care?
Our approach to getting kids back together and outside and active this summer is less about providing full-day care, and much more about offering as many opportunities for kids to have fun sports and recreation activities as possible. For this reason, we are offering three half-day camp sessions that will be jam packed (no filler games) and very full with activity. With many other options in the city for parents who require a longer day, we feel that we can offer a unique alternative for families who may require just partial days. Please check out the City's summer camp guide for a full day, 8am-5pm option.
https://documents.ottawa.ca/sites/documents/files/202005-14-Summer-Camps-ENG-Guide-CRA.pdf
6. How do I get Priority Registration?
If your child was registered in one of our original summer camps, you should have received an email with information about your refund, and a link to a registration that puts your child on the list. All you need to do once you receive that email is click on that link and book your child in. This does not register them for a program, it simply adds a membership that will allow access for the programs when online registration begins (see Registration Dates below). If you were registered for a camp, had not withdrawn or requested to be withdrawn, and have not received the link by email, please check your spam/junk mail for an email from us, and if you don't see it, email info@painistemporary.net to request that your child(ren) who were registered for a camp in the same week be registered for the priority registration list. Please state Priority Registration in the subject line.
7. FAQ about camp refunds
Q. I received an email about camps/lessons being cancelled the week of "X" date to "Y" date. What is that about?
As of April 5th, OCRA has decided to cancel all summer camps which were scheduled to run from June 29th to September 4th. We have been responding to inquires on a case by case situation as lots of you have kept your summer camp on as a credit. We will refund your credit and charge you for new camp if you decide to go with condensed camp. 
__________________________________________________
Medications:
All prescribed medication must be kept in the original package (box/bottle, etc) including a pharmacist label indicating proper dosage instructions and the child's name.
A medication authorization form must also be filled out and signed by a parent before any child is given medication. These forms can be printed and brought with you on the first day of camp or filled out in the Camp Office when you arrive. A form is required for all medication provided even if not administered (Epi-Pens).
All medications must be signed into the Camp Office by a parent. At the end of the day, or end of the week, we ask that you sign it out again to ensure that we have accurate records of all medications currently stored on-site.
If your child is going off-site or on an out-trip for the day, his or her Camp Director will sign the medication out of the office and bring it with them for the day, returning it to the office again once the camp group arrives on-site.
Epi-Pens must be worn by the camper during the day in a pouch or fanny pack. Staff will not carry Epi-Pens for campers and they should not be placed in backpacks. If your child is bringing a second Epi-Pen, we will store it in the Camp Office for quick access. Please speak to Camp Office if you have any concerns or to discuss.